Posted on February 14, 2016 in Cruising
Cruising in Style
Alluring destinations reached on elegant cruises and yachts makes the travel to the ports of call an experience unlike any other. Fewer passengers with exclusive, personalized, attentive staff takes cruise travel to a new level of standards.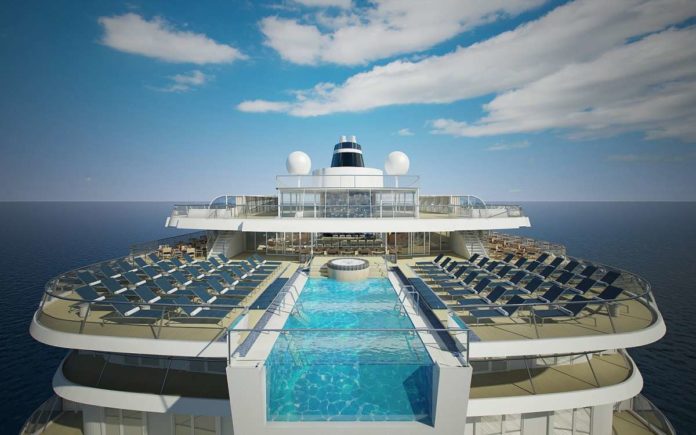 Cruising is an all-inclusive concept on luxury cruise lines and yachts. The relaxation in designated suites and cabins include luxurious accommodations with exclusive sleeping areas, seating area, mini-bars, balconies and personalized service.
Social areas are lush and inviting for guests to relax and socialize. Wines and other beverages are complimentary and chefs prepare elegant, delectable cuisine three meals a day. The crew is attentive to their guests needs.
These luxury yachts and cruise ships provide fitness areas and the ultimate spa experience.
Cruising guests dress elegantly in the evening and classy casual during the day. The men's attire is normally slacks, shorts, long and short sleeve shirts. Don't forget evening dress shoes.
Tours at the visiting ports are arranged. Individuals arrive and have the opportunity for group touring or couple exploration using guides or GPS held devices. Cruise excursions may be researched on the cruises website for early booking.
Whatever cruise line you decide to take your voyage on, you will be immersed in culture, gorgeous scenery, relaxation and adventure. You will make lifelong memories.
Posted on December 22, 2015 in Cruising, Travel
To:  College Young Adults going on the cruise.
Just a few tips to get you ready to cruise
Drink packages…..there are normally at least possible….the 'drinks' packages:  1) beer, soda, water (yes you do pay for water on the ship….
Bring a water bottle with you and do refills from the cold water dispensers in the buffet area..free!  It would probably be more economical to purchase the "drink special of the day…the kind with little umbrellas" or get a bucket 6-8 pack bucket (someone charges it on their room card  and everyone re-imburses that person for the beer 'they drank'..(do the math) that night before bed!! (amazing how some people have  tendencies to forget L DO limit the alcohol….being sick in the tiny little bathroom is NO FUN! You spent $$ to have fun on ship and go on excursions so don't miss out of the adventures just because you drank too much.
2) Phones… put on AIRPLANE mode unless you want a huge  bill…check with your service company for 'out of country fees'. Text messages will cost you also.
SKYPE…If your parents want a daily update……Make sure you are sober when you log-in for visiting 'mom and dad'!
3) Internet packages are rather expensive….best bet…most ports have a Starbucks or similar store.  You can google locations for the ports you will be visiting.
4.) ONE Carry-on ONLY!!! Hey gals only flip-flops, running shoes for fitness room and ONE pair dress shoes….no more! Limit make-up…. Most of the time you will have sunscreen on and an SPF lip gloss, waterproof mascara and eyeliner. 2-3 swimsuits, 1 cover, 2 shorts, 3 tops, sundress, 1 workout outfit, curling iron (if you want). They have hairdryers in rooms.
GUYS…(skip makeup)….otherwise same as gals… except 1 dress slack, long sleeve white shirt and tie. Dress jacket if you have one. Dress shoes if you have them. Don't waste $$ on tux.
5) SUNSCREEN WITH SPF. Most self tanners don't have this and you will be sorry the next day…. Benedryl pills are handy if sunburn.
6)  Watch out for one another…..Always safety first!!!!  Never go anywhere by yourself!! (Gals use bathroom facilities together..gossip time … but guys too.)
Above all have FUN and Behave Yourselves (I am a parent – Had to give you the 'talk')
Cruising
My husband and I have cruised 15 times. Cruising allows us to travel to numerous destinations on one trip.  We unpack once and no driving. All our meals are prepared with no cooking. The ship entertainment during the evening is very good, some cruises better than others. Activities are numerous including pool activities, game rooms, computer classes, ship tours or just relaxing with a good book reclining on a lounger. Below are the cruise lines we have sailed on.
Carnival – Liberty (Mediterranean), Fascination (Caribbean), Imagination (Caribbean)
Norwegian – Sky (Caribbean), Pearl (Caribbean)
Royal Caribbean – Brilliance of Sea (Mexico)
Holland American – Zuiderdam (Alaska). Oosterdam (twice) (Mexico)
Princess – Royal (Southern Caribbean), Ruby
Bahama Breeze (Bahamas)
Celebrity – Constellation  (European Wine Cruise)
Most of our cruises were 7 days and the European 12-15 days. Here are some recommendations I have about cruising.
Packing.  One suitcase and one carry-on and backpack with camera equipment.  1 dress or suit, dress shoes, 3 shorts, 5 tops, 1 slacks, 2 swimsuits, 1 swimsuit cover, 1 flip-flops, basic make-up, hair products, walking shoes, undergarments, lightweight sweater and rain poncho. Large zip lock bag (adapters for phones, computer, kindle and an 3-4 plugin extension cord). Zip lock bag medium (highlighter, notepad, pens, pencils and paper clips). Zip lock (all medications – keep in your backpack, car keys, passport/visa, small evening purse and crossover purse, credit card(s), cash (small bills). In a plastic flat binder keep travel documents (hotel, cruise papers , suitcase tags, itinerary and copy of travel insurance policy-highly recommended!). Do Not Bring Valuable Jewelry.
Prior to leaving home. Go on-line and fill out your 'document information'. Make copies and bring with you. Leave a copy of your itinerary with a family member or friend. Make a copy of your passport and driver's license.
Stateroom. There will be a safe to keep your camera, passport, medications and other necessities in. The bathrooms are small in size and closet space and hangers are limited. There is shelving to place clothing on in the closet. Suitcases are placed under the bed. Inside rooms are very dark so bring a few nightlights. Balcony rooms have more open space, bring a bungee cord so the doors do not slam. There is 24 Hr. room service. Hint- pre-order any in-room breakfasts the evening before. Let your room steward to remove any product in the small refrigerator if you do not plan using them. Then, you can place your carry-on water, and 1 bottle of wine each in there. Anything you need inform your room steward.
Dining. You have already selected your dining option when you checked in. There will be Specialty Dinners outside the dining rooms at an additional cost. The beverage packages are available if you consume a wide selection of wines or specialized coffees every day. Hand sanitizers are located throughout the ship especially when entering the buffets and restaurants. Use them to stay healthy.
Spa. Every ship has a spa. This is where I 'invest' some of my time. I normally purchase the week pass to use the facilities. It is a quiet, serene area for total relaxation. I use the heated thermal recliners, steam room, sauna, and walk in thermal pool. Fruits, juices, tea and water is normally available in the waiting room. The messages and other treatments  usually have specials throughout the week.
Fitness. The equipment varies on the ships. Classes are available for a fee. There are free health presentations during the day. Proper attire is required. Workout clothes and shoes.
Excursions. These can be booked before your cruise. During the cruise, there are morning meetings discussing the tours available on the following day and information regarding shopping.
Photo gallery. Photos are taken at embarkation, dining, formal nights, activities and at each port.
Shopping. Sales are frequent and you will see women flocking to the walkways to select their purchases. Reminds me of Black Friday sales. The shops have clothing and any necessary products you may have left at home and can't live without.
Lounges and bars. Many large sitting rooms and atriums have seating to socialize and have a drink.
Pools, Hot tubs and outdoor activities. Some cruise ships have a designated area for adults and another for children as well as large water slides, climbing walls, golf, basketball court and chaise loungers for relaxation and poolside activities.
Remember to have FUN…..you are on a CRUISE!!!!
Posted on November 26, 2015 in Cruising, Travel
Cruising on the Carnival Ecstasy     Bahamas Cruise
Our cruise on the Carnival Ecstasy was a family cruise. My Dad, brother, sister-in-law, husband and myself went on a 5 day cruise to the Bahamas.
We had a balcony cabin that was perfect for my Dad, husband and myself. My brother and wife had a neighboring stateroom. The outdoor balcony had dividers which we were able to open for one large balcony.
l
Sleeper upper with towel creature.
Our 'evening visitor'.
Every evening each stateroom received the Funtime, the Daily on-board activity schedule. The schedule included the next day port of call, tours, time schedule (do not miss the re-boarding times), ship activities, dining, spa specials, showtimes and lounge entertainment.
The ship is walkable with elevators conveniently located off the atrium. Dining rooms provided for early and late dining and breakfasts. One 'food station' had 24 hour service. Also available was in-room meal delivery. The buffets had meal options from soup and salad to delectable desserts. Specialty dining rooms for an additional fee are reservation only. Poolside beverage and food stations provide outside dining to enjoy lounging around the pools and hot tubs throughout the day.
Parents and children can participate in numerous games. The ship has a "kids center" where parents can check their children into the club and enjoy the spa or fitness center. Staff members provide interactive activities and supervision for the children.
Did someone say 'shopping'? Yes, there is shopping on board for souvenirs or any necessity you left at home. Specialty shops for clothing, jewelry and flowers are in the shopping arcade. The evening 'shopping sales' will find women looking for that something special as the men stand to the side to hold the purchases!
Looking to enjoy the indoors and find a quiet niche for reading? Throughout the ship are reading rooms and leather recliner chairs overlooking the sea. Grab a tropical drink or specialty coffee and enjoy!
Cruising can be as laid back or as active as you want. It is your cruise, so choose your style of cruising, make reservations (highly recommend travel insurance) and pack lightly.
Have you cruised before? Share where you have cruised and on what cruise line!
Mary Ann
Posted on November 7, 2015 in Cruising
Boomers…Is Cruising for You??     (For additional pics see Photo Gallery -Cruising)
As in any form of travel, some love it…some do not. The majority of people cruising today are 'repeat cruisers'. An enormous part of the population has never cruised.  The past Royal Caribbean Cruise my husband and I cruised, more than 3/4 had never cruised before. I was very surprised! It was a 'free cruise with a car purchase'. We upgraded to a balcony for a small cost. Most were on the cruise because it was 'free' and took an inside stateroom. At the end of the cruise, when asked for a show of hands at the final performances, how many plan on cruising again, most raised their hands…they were 'hooked'!
Why? It was an 'easy form of travel' was the primary response. No driving, food was always available, pools and hot tubs to soak up the sun on deck, shows at night, entertainment in the lounges, art shows, activities from morning until night  —– All Free!  Well, not all…..there are room charges for drinks, excursions, internet, spa, fitness classes and specialty dining.
But what about Boomers?
We are boomers. There I said it…it's out there! Here is why many boomers enjoy cruising.
Cost. Cruising is not cheap (unless you snag a great fare). But, if you were flying to all the destinations cruises visit, it could become very expensive with flights, hotels, meals, tours and transportation.  When cruising from a port you have never visited before, consider arriving a few days earlier and explore the port city. Drive or fly in a couple days ahead of time. If you are retired boomers you have plenty of time!
Not strenuous.  Arrive at your ship port and your luggage is delivered to your room.  No dragging luggage from hotel to hotel and booking flights, trains or cars to get around.
No cooking. Food is available 24/7 and you don't have to cook (or even leave your stateroom). The numerous buffets, restaurants, cafes and room service are all within a (short) walk. Well, depending on your ship, sometimes it is a longer walk, but that exercise allows for the meal dessert!
Awesome, Cool.  Deciding what to do onboard can be a real decision challenge. Whether you hang out on warm, reclining loungers in the spa or opt for a message, facial or other services, watch for the 'week specials' to spend the week or a day or so being pampered. These floating hotels are all unique in style, design and amenities.
Making Friends. You will be spending your evening hours usually cruising to the next port. You can choose table seating with others which is a great way to socialize and meet others on the ship. After dinner, there are shows, casino action, shopping, lounge sing-a-longs and numerous activities. There are many opportunities to make friends, maybe even schedule a tour with others. Some cruisers while on ship plan their next cruise with their 'new found' friends. Lasting friendships can happen.
Convenience for all.  On board ship, you can find just about everything you would want on a 'land' vacation. There are shops, money exchanges, a medical room (if you get sick). The food consists of every type of food you can imagine. If you have a special diet, let the cruiseline know before your cruise. Indicate on your initial booking form what your needs are. Vegetarian meals and other meals are available even if not on the menu. Just ask your server.
Accessibility. Most ships have ramps and elevators. If you have special needs, check the deck plans and contact the cruise line to ensure easy movement on the ship. Some smaller ships have fewer means of moving from one end of the ship to the other.
Communication to home. Cruise ships use satellite internet, which can be very slow and expensive. If you leave the ship at the port destinations, there is usually Wi-Fi available at internet cafes where you can grab a coffee and check your emails or send them.
The bonuses for 'Boomers' cruising is the determined cost of traveling to many destinations and the wide range of ships available today from small to massive.  The exciting part is arriving every morning at a new destination to explore (unless it is a sea day).
If you have never cruised, young or young at heart, give it a try. Like I said, some like it and some love it!
Check out these websites for interactive online discussions about cruises:
www.cruisecritic.com (my favorite)
www.(name of cruise line you are thinking about).com
www.cruises.com